UST SHS Principal orients Grade 10 with Senior High School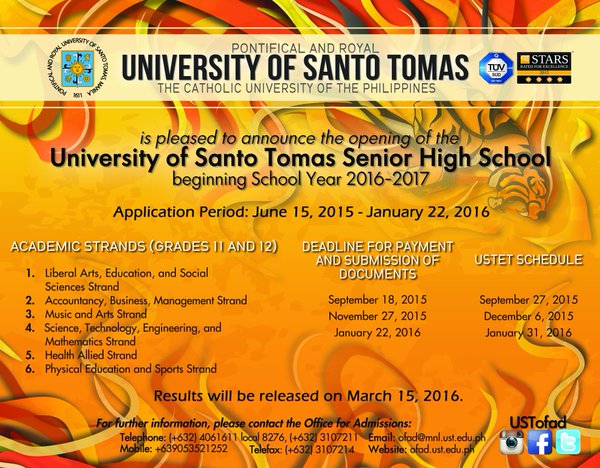 "We prepare, you prepare," stated Assoc. Prof. Pilar Y. Isidoro-Romero, Ph.D., the inaugural Principal of UST Senior High School to parents, faculty members, guidance counselors, and students during the SHS orientation on August 25, 2015 at the Benavides Auditorium.
Dr. Romero emphasized that the Senior High School would be different from Junior High School. UST SHS would be having its distinct department color, seal, student handbook, and uniform. Apart from these, UST Senior High School guarantees that a scholarship program will be offered to deserving students. It is expected that SHS would sponsor both academic and cultural organizations beneficial to pupils and to their preparation for tertiary education. As of the orientation date, 4, 786 aspirants have already applied for the USTET admissions.
Students were invited to choose from the six strands (Liberal Arts, Education, and Social Sciences strand, Accountancy, Business, Management strand, Music and Arts strand, Science, Technology, Engineering, and Mathematics strand, Health Allied strand, and Physical Education and Sports strand) offered by the university. The Principal highlighted that the UST Senior High School will be the only institution that would offer the Arts and Design strand, Health Allied strand, and Physical Education and Sports Strand as "strands under the Academic Track. " Faithful to its stand as a department of a Catholic university, UST Senior High School would be imparting the "Integral Faith Formation Program" together with the 15 core subjects, 16 track subjects, 7 contextualized subjects, and 9 specialization subjects mandated by the Department of Education.
A morning shift (7:00 am to 12:00 nn) or an afternoon shift (1:00 pm to 5:00 pm) from Monday to Saturday would be implemented in UST Senior High School. "Preparation is a two way purpose" said Dr. Romero. "You should work doubly hard to be admitted to UST SHS."