YCS steers "May Kasiyahan Kapag Malusog si Juan" project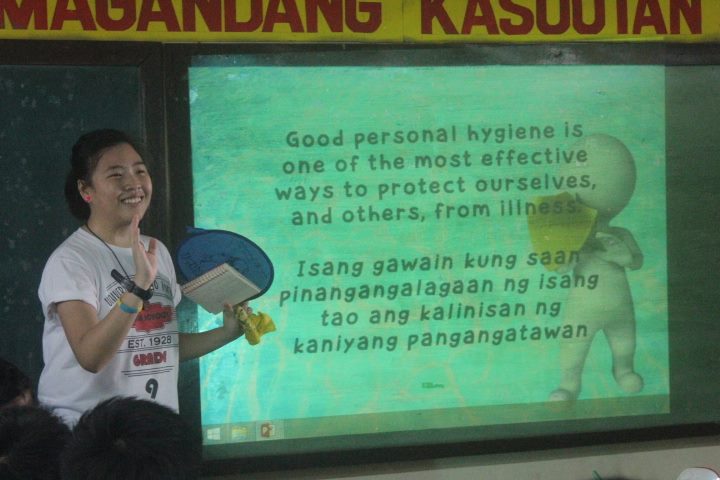 Faithful to its nature as the official arm of the UST JHS Office for Community Development, the Young Community Stewards (YCS) spearheaded its first outreach program, "May Kasiyahan Kapag Malusog Si Juan" project, on July 2, 2015. This scheme aims to impart to 6th Graders of Juan Sumulong Elementary School the basics of Mathematics, the essentials of survival training, and the fundamentals of personal hygiene and nutrition.
Other school organizations like the Math Club, Boy Scouts of the Philippines (BSP), and Girl Scouts of the Philippines (GSP) also partook in the said operation. Ralph Joshua Araño, President of the Young Community Stewards, shared, "Preparing for this outreach activity was not easy at first for there were many factors to be considered. Full cooperation among the participants and volunteers was really necessary. After teaching the children, we felt that all of our hard works have paid off. The students of the Juan Sumulong are more than typical elementary pupils we are all acquainted with. These children are quiet yet determined learners – truly worthy of our time and support."
"May Kasiyahan Kapag Malusog si Juan" project has been a good beginning for the Young Community Stewards as well as for the whole UST Junior High School community. "We wish that we have inspired other clubs to conduct community services for the betterment of our society," added the YCS President. It is hoped that this outreach activity serves as a paragon for other UST JHS clubs who are willing to organize their own outreach programs for this academic year.
Featured Image ©Young Community Stewards