Dominican Network Youth Group convenes delegates nationwide on its 19th Summer Camp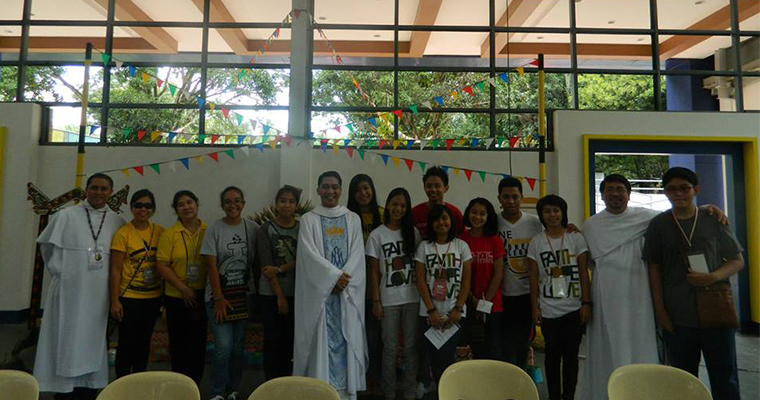 Eight students represented UST High School in the 19th DYG Summer Camp organized by the Dominican Network Youth Group held at San Pedro College – Ulas Campus, Davao City. The said encounter endorsed the theme "Liberating Truth: Key to Freedom" for five days, from April 28, 2015 to May 3, 2015. UST JHS DomNet Adviser, Ms. Lydia Basaysay, joined the eight representatives: Agatha Tacneng (St. Daniel '14-'15), Maria Andrea Capiral (St. Dominica '14-'15), Micah Apostol and Reinalyn Cadavillo (St. Catherine '14-'15), Joshua Raphael Tan and Stella Santos (St. Dorothea '14-'15), Erika Marie De Guzman (St. Dionysius '14-'15), and Al Vicente Riano Lisboa (St. Cecilia '14-'15).
Fr. Ramonclaro Mendez, O.P. presided the opening mass which was succeeded by San Pedro College President Sr. Anabella Roña, O.P.'s welcoming remarks. DYG National Coordinator Dave Marangay oriented all 264 delegates from 38 schools nationwide through the "welcome presentation," wherein all representatives divided themselves into different teams and made their own cheers and flags. The first day of camp directed the youth towards the meaning of truth through a talk entitled "Unsa ba ang tinuod?" by Fr. Lauro de Dios, O.P., the rector of Angelicum School Iloilo. "Unsa ba ang tinuod" is a Bisayan translation of "what is the truth?"
Teambuilding activities were held in the Bluejaz Beach Resort at Samal, Davao City. On the third day, three DYG alumni namely Kuya Bagani, Ate Ivy, and Ate JV shared their own inspirational stories highlighting their faith in God and overcoming life's ordeals. All delegates were provided the Youth Annual Report, a narrative which showcases DomNet's activities throughout A.Y. 2014 – 2015. A new set of DYG officers was also determined on the same day. Another talk with the title "Gawasnong Kamaturoan sa Ginoo" (God's Liberating Truth) was offered to each contingent by Fr. Stephen Besa, O.P.
The fourth day of the DYG summer camp began with a mass presided by Mindanao Vocation Promoter Fr. Norman Quilaquil who shared in his homily that "…a DomNet kid should have a grateful heart, a sincere heart, and a joyful heart." All delegates registered themselves in various workshops that could enhance their skills involving singing, dancing, drama, photography, painting, or modelling to disseminate further the essence of truth as the ultimate key to freedom.
The 19th DYG Summer Camp was concluded by a final mass presided by Fr. Christopher Jeffrey Aytona, O.P. who gave a Pope Francis Cross to each delegate as a "pabaon" along with Fr. Lauro de Dios, O.P. and Fr. John Stephen Besa, O.P. On the same day, the Core Team acknowledged every school's participation through the awarding of certificates. Jessieca Infante, member of the UST DomNet Core Team, spearheaded the Ritual of Goodbye after the new set of DYG officers had their corresponding inductions.